Singapore's first chief minister was David Marshall, of Iraqi-Jewish extraction. Even today, on the anniversary of his death, residents of Singapore from all religions pay their respects to him. Article in Y-net News (with thanks: Michelle):
A serious crisis took
place in Singapore after World War II, and few Jews remained in the
country: Only 150 out of several thousands, most of them Iraqi Jews from
Baghdad, who lead the community to this very day. Since then, the
community has grown significantly and numbers some 1, 500 men and women
today (including the Israelis and Jews who arrive for a short relocation
period for business purposes).
The community is mostly Orthodox, wealthy and very inviting. Slowly,
over the years, the community grew and expanded thanks to people who
arrived from all over the world, including several thousand Israelis who
are sent to Singapore every year by their workplaces on missions or
special projects.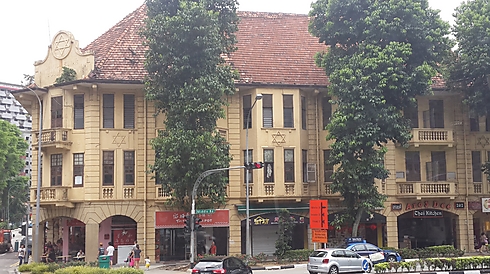 The
Elias building which belongs to Singapore's rich Jews and has been well
preserved by the government (Photo: Ayelet Mamo Shay)
The few Jews who remained in Singapore after the war stood out. For
example, David Marshall, who was a successful Jewish lawyer and served
as Singapore's first chief minister from 1955 to 1956. To this very day,
on the anniversary of his death, many residents from a wide spectrum of
the country's different religions pay their respects to him.
In 1965, when Singapore gained its independence and split from
Malaysia, Israel was one of the few countries which helped the new
republic. Singapore's residents are still grateful to Israel to this
very day, and the Israelis are very popular in the country.
The community is led by Rabbi Mordechai Abergel. I met with him in
his modest office after a comprehensive security check at the entrance
to the community building. He has been serving as the community rabbi
since 1994, but although more than 20 years have passed, it seems that
his vigor and positive energies have only increased over the years.
The rabbi is very involved in everything taking place in his
community, and keeps it united by holding joint Shabbat meals and
communal events during the Jewish holidays. The highlight of the year is
the Lag B'Omer bonfire, which brings together 700 people.
Rabbi Abergel also serves as the community's slaughterer. He
slaughters the poultry himself in a bid to keep the prices low and
reasonable for kashrut observing consumers. The rabbi believes that
every Jewish home, wherever it is, should observe kashrut, and therefore
only the cost price is charged for the chicken. The beef, on the other
hand, has to be imported from Australia, so its price in Singapore is
much more expensive.
The rabbi is also an authorized mohel but prefers not to take
any chances, so most new parents privately book a mohel from Israel for
their son's circumcision ritual.
There are two active synagogues in Singapore, Chesed-El and Maghain
Aboth. The latter, which was built in the early 20th century, is located
in the community compound on Waterloo Street, which also includes a
ritual bath for men and a ritual bath for women, a kosher store which
offers a variety of products from Israel and around the world, and a
banquet hall which holds weddings, bar mitzvah, anniversaries and
workshops.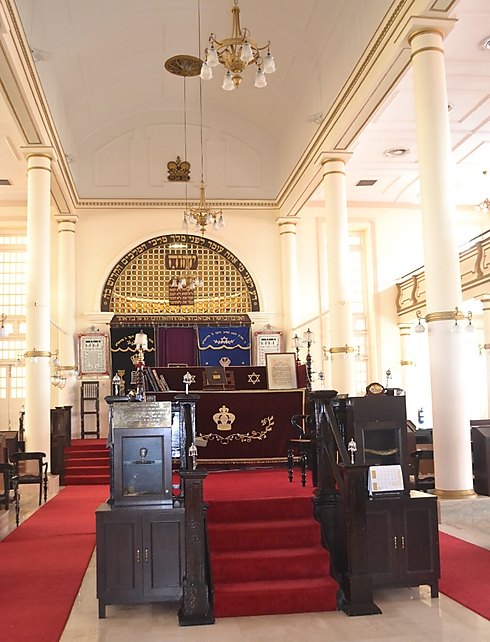 The Maghain Aboth Synagogue (Photo: Ayelet Mamo Shay)