The Damascus rabbi with a mission
A rabbi of Syrian descent, now living in Israel, is keeping alive the unique heritage and liturgy of the Jews of Damascus. The prayer books he has published, reviving the Damascus rite, have proved a runaway success with Syrian communities the world over. YNet News reports: (with thanks: Jeremy)
"I have a sacred debt,
to pass my forefathers' heritage on to my children and grandchildren,"
Rabbi Chadid says modestly. "It's not a job, not a profession and not an
expertise. It's just the grandparents from Damascus speaking through my
throat and reliving their lives."
The small apartment has a name: The Shaar Binyamin Institute for the study and restoration of the Damascus Jewry's heritage.
Rabbi Chadid lives with a mission, and he has also turned down
offers from different organizations which would have provided him with a
building, research budgets and researchers.
"The difference between me and historians is that they are
pathologists while I am a cardiologist. They open the heart and explain –
according to their understanding – how it used to work in the past,
while I deal with beating hearts, and even if they have become weak, I
know why they haven't stopped beating."
Rabbi Chadid was born in Argentina 52 years ago to parents of Syrian
descent, and was raised in the country's Damascus communities. When he
arrived in Israel after his marriage, he devoted his energy to
theoretical religious studies and was asked to teach his unique method
at a yeshiva for advanced Talmud studies.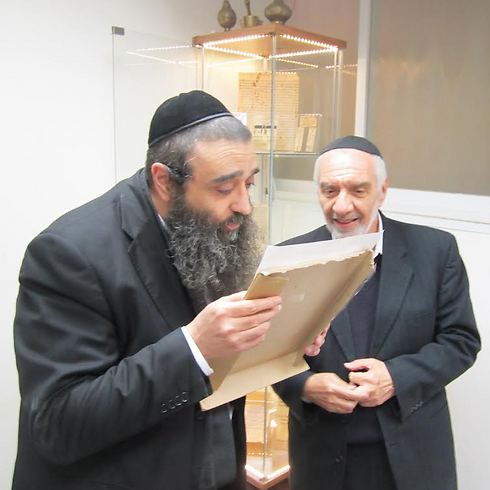 Rabbi
Moshe Chadid with scholar Yaakov Atar, one of last people familiar with
the Baqashot collection of songs and prayers (photo courtesy of the
Shaar Binyamin Institute)
About a decade ago, he was approached by a Mexican businessman from
the Assa family, who had an unusual request: There are tens of thousands
of Damascus Jews in Israel and in the United States, in Mexico and
Argentina, and they don't have an authentic prayer book with the
community members' unique laws and prayer versions. Would the rabbi be
willing to revive this tradition which is becoming extinct?
Shortly afterwards, a magnificent prayer book called Shaar Binyamin
was published by the Ahavat Shalom Institute. The book became a hit, and
tens of thousands of its copies became an elementary commodity in the
Damascus communities abroad and in Israel.
The success led to the publication of prayer books for the Rosh
Hashana and Yom Kippur Selichot. The past two years also saw the
publication of a Passover Haggadah and prayer book with hundreds of
interpretations from Damascus scholars, edited in a new style adapted
especially for the young generation. All the books were published in
another edition with phonetics and a full translation into Spanish,
which also became a hit.
"For years, the communities used the notes kept by the elderly, which
included the community's ancient customs. On Yom Kippur, for example,
we commemorate the greatest rabbis who served in the city of Damascus in
the past, going back up to 300 years, immediately after the Kol Nidrei
prayer. The dozens of rabbis with their specific titles are now printed
in our Yom Kippur prayer book."