Last Jews of Yemen stubbornly stay put
How dangerous does Yemen have to become before the last Yemenite Jews decide to flee? Ynet News reports :
Israel is closely
following developments in Yemen, where Gulf states are bombing
Iranian-backed fighters, and has expressed deep concern over the fate of
the last few Jews in the country.
Saudi Arabia and its allies launched a series of air strikes
overnight Wednesday, battling Iranian-backed Houthi fighters who have
captured swathes of the country.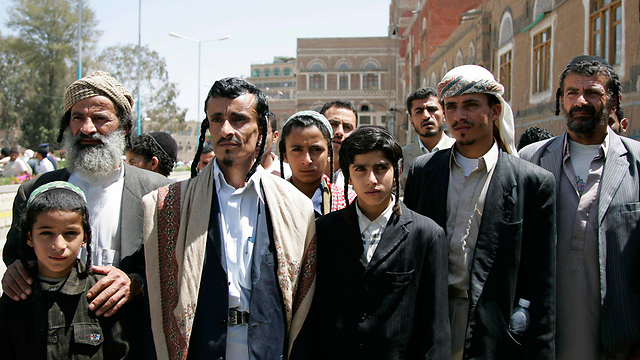 The Jews of Yemen (Photo: Reuters)
Israel believes that there are less than 100 Jews remaining in Yemen.
Most of that number is concentrated in Sanaa, which has fallen to the
Iranian-backed rebels.
The Foreign Ministry and the Jewish Agency have been in an ongoing
state of frustration over the refusal of Yemen's Jews to leave, despite
the risks there.
The Jews living in Yemen – most of whom had the opportunity to leave
for Israel or another country, but refused – face an approaching danger
from the advancing rebel forces, who have repeatedly made statements
against Israel.
"We don't want to leave. If we wanted to, we would have done so a
long time ago," Sanaa's chief rabbi Yahya Youssef said in February.
He did concede, however, that: "Since last September, our movements
have become very limited for fear of the security situation."