Israelis react to refugee compensation offer (updated)
The issue of Jews from Arab Countries being aired on the Arabic service of i-24 News
Minister Silvan Shalom welcomes the proposal to compensate Jewish refugees as part of John Kerry's framework peace deal. Minister Uri Orbach also welcomes the proposal, but fears that the peacemakers are attempting to 'buy' an important constituency of the Israeli electorate in return for far-reaching Israeli territorial concessions. The far-left Professor Yehuda Shenhav pops up in Ynet News to throw his customary spanner in the works, condemning the Israeli government for cynically rebranding Jews from Arab lands as refugees in order to block Palestinian demands. What he does not realise is that the Clinton fund proposal will not offset Palestinian demands with Jewish claims, but will deliver compensation to individual refugees on both sides :
Ynet News reports:
A prominent minister and senior politician of Sephardic descent praised Israel's bid to achieve refugee status for Jews
who fled their Arab nation homes on the eve of the State's foundation,
calling it a "rectification of an historic injustice," echoing claims
made other Sephardic Jews.
The Cohen family left behind a residential building in Cairo while
the Kalif family were forced to abandon a number of apartments and
stores which were later nationalized by the Iraqi government. Decades
have passed since they moved to Israel, and until it was revealed to be
part of the framework peace deal being hatched between the Palestinians
and Israelis, the idea of compensating Jews who fled Arab nations was a
solely theoretical one, shadowed by the issue of Palestinian refugees.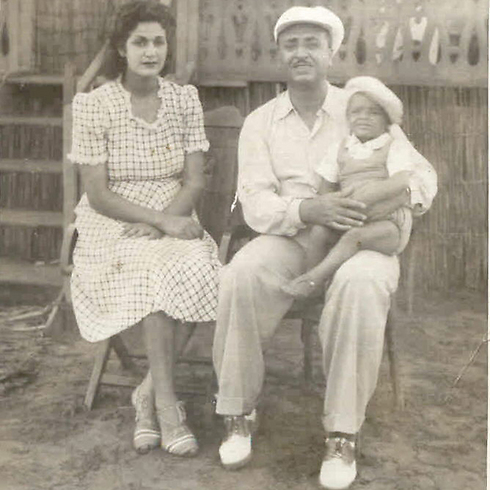 Cohen family on vacation in Ras al Bar, Egypt (Photo: courtesy)
Yaakov Cohen, 72, was driven out of Cairo with his family in 1956, in
wake of the Sinai War. "My father was a wealthy man. He was a
goldsmith, had a workshop and traded in gold. He had three whole
buildings in Cairo, and some 300 kg of gold bars, because Egyptians back
then didn't trust banks.
Despite recent proposals, Jews who fled Arab states for Israel object to
conflating their compensation with that of Palestinian refugees
"When we were expelled, each person was allowed to carry one
suitcase. My mom tried to pass jewelry though customs and they ripped it
off her neck. My family got $5,000 in compensation, the buildings were
sold and the assets were frozen, but when my mom returned in 77′ to find
out the account balance the Egyptians gave her $200," Cohen told Ynet,
expressing support of the compensation idea.
"Giving the Palestinians money instead of lands is a very good idea
for Israel, and if we can get something as well then whatever will come
is welcome. I support this as a Likud voter."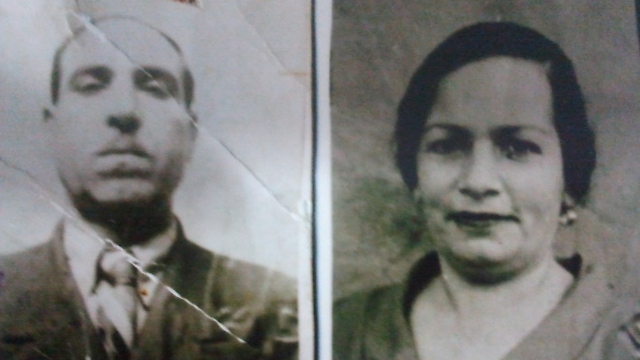 The Kalifs
Tikva Kalif, 76, made her aliya to Israel in 1951 together with her
parents and six brothers and sisters from Iraq. "We left with only our
clothes," she recalled.
"I remember my mother taking down two shirts and two pairs of pants
for each of us. They (the Iraqis) took the rest. We were
well-established, we had no lack in money. My dad had two stores, and
one day he came and saw a 'closed' sign had been put on one them. The
government had taken them."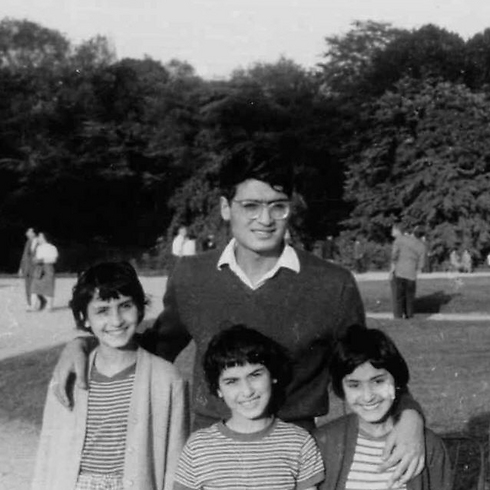 The Kalif family in Paris before move to Israel (Photo courtesy of family)
Years later, she said, the family attempted to get compensation for
their lost property, but to no avail. "I don't believe we'll get
compensations," she admitted, "but I don't care if they give the
Palestinian refuges money so they will leave us alone, but its doesn't
sound really serious to me."
National Infrastructures, Energy and Water Minister Silvan Shalom
addressed the reports regarding the framework agreement between Israel
and the Palestinians, in which, for the first time, there is a
reference to the rights of Jews from Arab countries as refugees that
need to be compensated for property that was left behind.
"This is rectification for an historic injustice," said Minister Shalom Saturday evening.
Shalom immigrated to Israel from Tunisia
with his family in 1959, and has been an advocate for compensation for Jews from Arab countries over the years.
Shalom estimated that there are about one million Jews who were forced to flee Arab countries.
"When I was a month old, my family ran away from Tunisia to Israel,"
Shalom said. "My parents told the authorities and their friends they
were going on a short family visit to Marseilles, and never returned.
Minister for Senior Citizens Uri Orbach counsels caution:
"There is no more just compensation demand that the one by Jews who emigrated from Arab countries," Orbach wrote on his Facebook page.
"Many were forced to leave their homes in the early 1950s after ongoing
harassment and persecution," he wrote, adding that his own Ministry had
recently embarked on a project to categorize and list the lost property.
However, he said, caution was needed. "The compensation component,
justified as it is, was thrown into the agreement to convince Israelis
to accept the proposal, as if to say that the more territory we give up,
the greater the compensation.
"We must remember that Jews, unlike the Palestinians, did not
threaten the existence of their homelands or anyone else," Orbach wrote.
"They did not declare war on Iraq, Yemen, or Egypt. They left with
nothing because of pressure and danger. They must go on demanding their
rights, not as a way to prevent or encourage a diplomatic agreement, but
because it is a matter of justice."
Similar sentiments from MK Nissim Zeev
Prof. Yehuda Shenhav objects to Jews from Arab lands being classified as refugees:
"This suggestion does not surprise me. Three years ago, the
Knesset quietly put into legislation a bill according to which any peace
agreement with the Palestinians will include an article that classifies
Jews from Arab states as refugees who fled their homelands because they
had no other choice."
However, the idea of defining Jews as refugees challenges the
Zionist narrative according to which Jews came to Israel from purely
Zionist motives.
"This is a mess," Shenhav continues; "there are indeed Jews that fled their homes, as in the case of Egypt
in (the War of Attrition
in) 1956, but a lot of Jews came of their own volition."
Who will compensate Jews from Arab countries? (Al-Monitor)