Sephardim 'usurp' London Jewish fare
It's here, it's there, it's penetrated the heart of Jewish life. Zest, a Sephardi Kosher restaurant at London's gleaming new Jewish centre, JW3, has been discombobulating Britain's leading (Ashkenazi) food critics, displacing the artery-hardening fare of their ancestors with sunny, vegetable-rich, healthy dishes. Zest's food may not be what bubba served up, but the critics have to concede: it is mouth-wateringly delicious…
Jay Rayner offers up this taster in The Guardian:
Something terrible has happened to my people. They have lost their
way. It's worse even than that whole 40-years-in-the-desert thing which,
in any case, was just a map reading issue. This is about sense of
identity. It's about the very essence of what it is to be a Jew; or at
least a north west London Jew like me whose forebears came from that bit
of Eastern Europe, where a pogrom was the nearest anyone had to a
spectator sport and the menus were written with the bitter winters in
mind.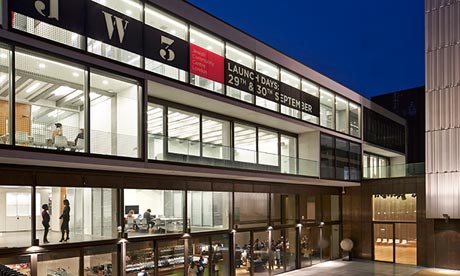 The new London Jewish centre, JW3, has a restaurant serving Sephardi food (Photo: Hufton+Crow)
Yes, it's all to do with dinner. For decades being an
Ashkenazi Jew in London meant going nose down in lumps of salted meat,
boiled to a point whereby you could eat them without a full complement
of teeth. It meant pucks of shredded potato and onion that have taken a
long, shameless bath in the deep fat fryer. There were pickled bits and
dirty notions involving large amounts of chicken fat. Oh the things we
could do with chicken fat. For decades this diet also held sway under
the unforgiving, Middle Eastern sun of Israel, which isn't that
surprising. Many of the original Jewish settlers were Ashkenazis. This
was what they ate. It was who they were.
Do I need to tell you
this food is truly awful? A Jewish cuisine? Don't be silly. It's nowhere
near refined enough to be called that. The only people who should ever
talk about a "Jewish cuisine" are French Jews showing off their new
kitchens. If it emerged now as a food trend, public health officials
would set up outreach centres in an attempt to nudge people away from a
lifetime of ever-hardening arteries. But it's our food. It's my food.
And I love it.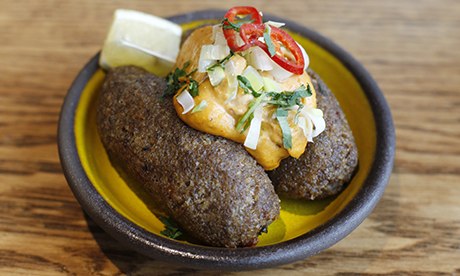 (Tuna croquettes. Photo: Katherine Rose/ Observer)
So what's gone wrong? I'll tell you what's gone wrong. The food of
the Ashkenazis has been usurped by the food of their Mediterranean
brothers, the Sephardim. Theirs is a culinary tradition full of sunlight
and warmth and zest and life, rather than dead things and chicken fat.
We've seen it in the dishes served at Ottolenghi and at Honey & Co and now it's at Zest, the thrilling restaurant in the newly opened Jewish cultural centre JW3,
off London's Finchley Road. The chefs are north Londoner Josh Katz and
Israeli- born Eran Tibi, both of whom previously worked for Yotam
Ottolenghi, because it's the law that you must do so before setting up a
restaurant like this. Quietly, unexpectedly – and without anybody
bothering to consult me – Jewish food has become really, really good.
Frankly, I'm appalled.
It all reflects a demographic and cultural
change in Israel, which may once have been dominated by the Ashkenazis
but increasingly has become a Middle Eastern country. Inevitably it is
those flavours which now hold sway. Perhaps they noticed that the food
of the Sephardim is simply much better suited to keeping kosher. The
Ashkenazi repertoire is essentially the diet of the Slavic peoples minus
the pig. Sephardic food is far less reliant on meat or butter. It
focuses on vegetables, olive oil and occasional outbreaks of fish.
Gastronomically, a lot of kosher Ashkenazi food is about compromise, to
keep true to the imperative not to mix milk and meat. There is very
little in the way of compromise about the Sephardic diet. The food is
exactly the same as that eaten by the non-Jews in that part of the
world.
Times and Sunday Times food critic Giles Coren voices similar sentiments here ,although a sublime rugelach makes him ready to forgive Sephardi culinary imperialism. (With thanks: Anne)