Eric Hobsbawm: Marxist historian, Egyptian Jew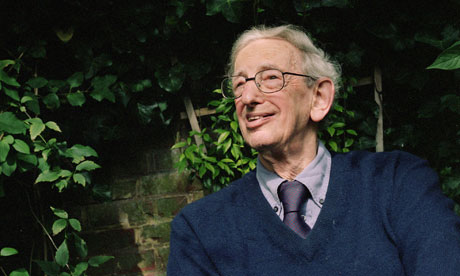 Eric Hobsbawm (Photo:Karen Robinson)
Like him or loath him, it might surprise you to learn that the Marxist historian Eric Hobsbawm, who died yesterday aged 95, was an Egyptian Jew by birth. From his obituary in The Guardian:
Hobsbawm was born in Alexandria, a good place for a historian of
empire, in 1917, a good year for a communist. He was second-generation
British, the grandson of a Polish Jew and cabinet-maker who came to
London in the 1870s. Eight children, who included Leopold, Eric's
father, were born in England and all took British citizenship at birth
(Hobsbawm's Uncle Harry in due course became the first Labour mayor of Paddington).
But
Eric was British of no ordinary background. Another uncle, Sidney, went
to Egypt before the first world war and found a job there in a shipping
office for Leopold. There, in 1914, Leopold Hobsbawm met Nelly Gruen, a
young Viennese from a middle-class family who had been given a trip to
Egypt as a prize for completing her school studies. The two got engaged,
but the first world war broke out and they were separated. The couple
eventually married in Switzerland in 1916, returning to Egypt for the
birth of Eric, their first child.
"Every historian has his or her
lifetime, a private perch from which to survey the world," he said in
his 1993 Creighton lecture, one of several occasions in his later years
when he attempted to relate his own lifetime to his own writing. "My
own perch is constructed, among other materials, of a childhood in the
Vienna of the 1920s, the years of Hitler's rise in Berlin, which
determined my politics and my interest in history, and the England, and
especially the Cambridge, of the 1930s, which confirmed both."
In
1919, the young family settled in Vienna, where Eric went to elementary
school, a period he later recalled in a 1995 television documentary
which featured pictures of a recognisably skinny young Viennese Hobsbawm
in shorts and knee socks. Politics made their impact around this time.
Eric's first political memory was in Vienna in 1927, when workers burned
down the Palace of Justice. The first political conversation that he
could recall took place in an Alpine sanatorium in these years, too. Two
motherly Jewish women were discussing Leon Trotsky. "Say what you
like," said one to the other, "but he's a Jewish boy called Bronstein."