Egyptians scared that Jews want restitution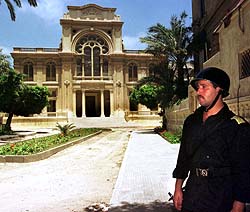 The Eliyahu Hanavi synagogue in Alexandria
The Nebi Daniel Association, which strives to preserve Jewish heritage in Alexandria, is to resume its attempts to negotiate with the Islamist-dominated Egyptian government. One of their longstanding grievances is that Jews outside Egypt can have no access to communal registers, which are considered the property of the Egyptian state. The Association has also obtained the local community's approval to ask the World Monument Fund to put the Eliyahu Hanavi synagogue in Alexandria on its 'watchlist'.
The news comes against a background of scaremongering in the Egyptian press.
It is clear that the Egyptians and other Arabs are worried stiff at the current Israeli government campaign for Jewish refugee rights. To the Egyptians, this can only mean that 'the Jews are coming back to reclaim their property.' This has led to the Egyptians imagining all sorts of conspiracies.
OnFriday blogger Elder of Ziyon uncovered this report in the Egyptian press:
Cairo police seized 13 parcels in large suitcases in Nasr City
containing private books and papers of Jews in Egypt. These parcels were
intended to be sent out of the country, where investigations revealed
that they were en route to Jordan.

The newspaper Al-Ahram said it is likely that these files and papers
were from the government, and intense efforts to catch the owner of
these shipments are underway, after it was discovered the existence of
the name of an unknown foreign woman on the parcels.

…These papers and books are very old, and contain information about the Jews in Egypt.

Investigations have revealed that these packages would go out of the
country on behalf of a foreign woman to Jordan and from there to Israel,
and then used in the prosecution of Egypt…
It is impossible to establish whether the story is true or a flight of Egyptian fancy. As Elder of Ziyon says, it seems highly unlikely that anyone might want to smuggle out Jewish documents through Jordan rather through an European country. More plausibly, the Egyptians are framing a woman in order to send a warning signal to anyone who might be engaged in a freelance operation to smuggle out Jewish documents or anybody contemplating helping them.
*The related fear that vast amounts of abandoned Jewish property might be open to exploitation or abuse at home surfaced in July in this television news report: between 10 and 50 'evil-doers' have been trying to extort 10,000 Egyptian pounds from each of the Egyptian tenants living in sequestered Jewish property in Cairo's Jewish Quarter, where 7, 000 Jews once lived. If the tenants, who pay the government a low rent, can't pay the sum demanded, the 'evil-doers' themselves move in, claiming that they bought the property from the sequestration authorities.