The Black Panthers: where are they now?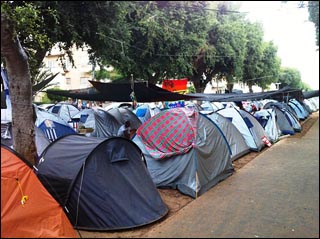 Tent City on Rothschild Boulevard in Tel Aviv in the summer of 2011
It's been a year since young Israelis set up tents in Tel Aviv's Rothschild Boulevard to protest the high cost of living. But while these protesters were led by middle class Ashkenazim, the pioneers of the social justice movement were the Black Panthers, a group of North African immigrants from the impoverished, crime-and drug-infested neighbourhood of Musrara in Jerusalem. The Jerusalem Post asks where the Black Panthers are now:
It was a summer of passionate demonstrations, with protesters calling on the government to provide social justice and lower the cost of living; the year was not 2011 but 1971, and the protest leaders were not middle-class Ashkenazi Jews, but underprivileged Mizrahi Jews going by the name the Black Panthers.
The Black Panthers movement was born out of anger regarding disparities between Ashkenazi and Mizrahi Jews, and widespread discrimination by authorities. The protests began in January, 1971, in Jerusalem's Musrara area, a poor, crime- and drug-infested neighborhood. Young Israelis of Mizrahi descent, protested outside the Knesset building in Jerusalem, against a lack of educational and employment opportunities, and poor, crowded housing conditions.
Most of the Mizrahim immigrated to Israel during the 1950s and 1960s, fleeing hostility in Arab countries. They endured tough conditions in transit camps and development towns, and blamed the Labor-led government, dominated by Ashkenazi Jews, for the difficult conditions in which they lived.
On August 23, 1971, tensions mounted between the Black Panthers movement and the Israel Police, as officers violently dispersed a protest in Jerusalem, injuring 7 and arresting 23.
The movement's name was inspired by the African American Black Panthers, after one of the Israeli movement's founders, Saadia Marciano, met with Angela Davis, from the African American Black Panthers revolutionary leftist organization.