Iraq cuts cooperation with US over Jewish archives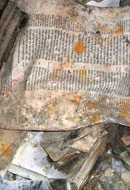 Latest chapter in the never-ending saga of the Iraqi-Jewish archives being restored in Washington: Iraq has cut cooperation with the United States on archaeological exploration because Washington has not returned the archives, Tourism and Archaeology Minister Liwaa Smaisim told AFP.
The fate of the archives, which were removed from Iraq following the 2003 U.S.-led invasion, is a long-running point of contention between Washington and Baghdad, which has for years sought their return.
Smaisim, a member of powerful anti-U.S. cleric Moqtada al-Sadr's movement, said in an interview with AFP that Iraq will use "all the means" to pursue the return of the archives.
"One of the means of pressure that I used against the American side is I stopped dealing with the American (archaeological) exploration missions because of the case of the Jewish archives and the antiquities that are in the United States," said Smaisim.
"The American side made many moves and pressure (for Iraq) to resume work with them but this is a final decision," he added.
The ministry of culture says that millions of documents including the Jewish archives were transferred to the United States.
Seventy percent of the Jewish archives are Hebrew-language documents, with another 25 percent in Arabic and five percent in other languages, according to the ministry.
The archives, which were found in the flooded basement of the intelligence headquarters in Baghdad in 2003, include Torah scrolls, Jewish law and children's books, Arabic-language documents produced for Iraqi Jews and government reports about the Jewish community.
Iraq was home to a large Jewish community in ancient times but its members left en masse after the creation of Israel and the first Arab-Israeli war in 1948.*
JTA article (with thanks: Edwin)
*It is more accurate to say that the community left en masse not as a result of the creation of Israel, but the antisemitic backlash to Israel.