'Forgotten refugees' come ashore in Australia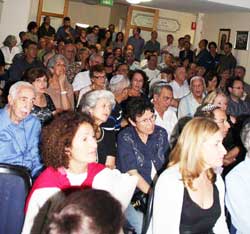 Packed house last night in Sydney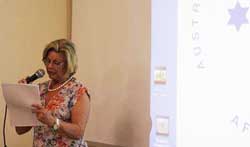 Dr Racheline Barda, born in Egypt

The Forgotten Refugees have finally come ashore in Australia. A packed house at the Sephardi synagogue in Sydney applauded the David Project's film detailing the forgotten plight of almost a million Jews displaced from Arab lands. Report on J-Wire: (with thanks: Vernon)
The plight of Jewish refugees displaced from Arab lands was discussed at a meeting in Sydney last night.
More than 150 people packed the Sephardi Synagogue at which 'Australians For A Secure Israel' and the Sephardi Synagogue held the information evening.
Dr. Racheline Barda, who was born in Egypt and Ruth Harvey, whose family fled from Libya told their personal stories which were followed by Peter Wertheim, Executive Director of the ECAJ , who told of his experiences from 1989 to 1994 when he was deeply involved in a campaign to help free Syrian Jewry.
The DVD "The Forgotten Refugees" an internationally acclaimed and awarded project of the David Project, the untold and unpublicised story, of the million or so Jewish people expelled, and/or who fled Arab lands after 1948, was screened receiving rousing applause.
This is a story of importance.
The story of these forgotten refugees, is a story that needs to told.
101 United Nations General Assembly resolutions have been raised to deal with refugees arising from the Israel/Arab conflict, but not one has been raised to deal with the plight of Jews displaced from Arab lands.
'Australians For A Secure Israel' was formed out of concern for a growing attempt to delegitimise the State of Israel.