The chequered history of the Mountain Jews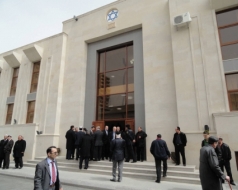 Alone of all Jewish communities in Muslim countries, the Jews of Azerbaijan seem to be thriving. Only last April a splendid new synagogue, funded by the Azeri government, opened in Baku to much fanfare.
But the story of the Jews of this region – known as Mountain Jews or Jews of the Caucasus – has not always been this untroubled. An ancient community tracing their ancestry back to the Babylonian captivity and as part of the Persian empire was subject to the strictures of dhimmitude over the centuries and forced conversions to Islam. Yet, according to Sir Martin Gilbert in In Ishmael's House, Mountain Jews were armed and respected by neighbouring tribes as fierce warriors.
There were pogroms in the early 1900s and under Communism the teaching of Judaism was banned. In 1980 fear of being caught up in the Armenian-Azeri war over Nagorno-Karabakhforced many Jews to leave for Israel and the West. Sarit Haddad, the famous Israeli singer, is descended from a family of Mountain Jews, and so is the great diva Yaffa Yarkoni, nee Abramov.
But one of the most deeply disturbing antisemitic episodes was the massacre of as many as 3,000 Jews in 1918-9– not by Muslim Azeris, but Bolshevik-led Armenians.Point of No Return flagged up this little-known event, reported in an Azeri newspaper in 2006, and publicised by the well-known commentator Tom Gross.
In a radio interview Esmira Yaffa confirms that workers building a stadium in Quba in 2007 had unearthed mass graves. The Jews were slaughtered by the Armenians because they refused to take sides in the great war with the Ottoman Turks. (Jews were also killed on the Turkish side of the border in Anatolia). Esmira's interviewer and talk show hostAlmaz Kohanziadeh Ben-Adonaiconfirms that her great-great-grandfather, a rabbi in Quba, was forced to leave around this time.
Esmira Yaffa has many fascinating things to say about her community. They spoke a Judeo-Persian dialect of Middle Persian with 20 percent Hebrew words. Some towns were entirely Jewish – Quba had 17 synagogues. Let's hope the reborn present-day community – numbering about 6,000 – has put its troubles behind it.