You can keep our Moroccan blue door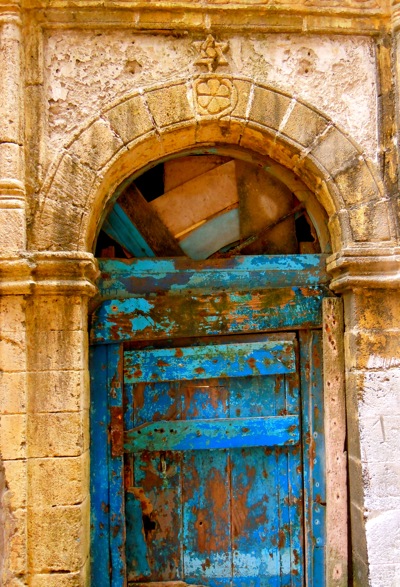 Jewish home with a blue door in Essaouira
One of the pleasures of visiting Israel is striking up conversations with complete strangers. Take Yariv, for instance.
Yariv is a pleasant young man in his 30s, riding the crest of an Israeli real estate boom. Yariv works long hours selling upscale boltholes in Israel to wealthy French Jews.
Business is buoyant. Right now, Yariv's biggest headache is finding a place in Jerusalem's oversubscribed kindergartens for his toddler son.
Yariv's father left Meknes in Morocco in 1969. Aged 20, he saw no future for himself in an Arab country. His first port of call was France. When Yariv was 16, the family moved to Israel. They haven't looked back since.
Yariv's family are related to Rabbi Yaacov Abuhatseira, the great sage to whose shrine in EgyptJewish pilgrims travel every year. Abuhatseira was on his way to Eretz Israel when he fell ill and died near Alexandria in the late 19th century. His son, known as the Baba Sali, was also a renowned rabbi whose shrine in Netivot in Israel is also a centre of pilgrimage.
A few years ago, Yariv went on a pilgrimage to Morocco. He visited the south, where his family originated. He was struck by how primitive life still was. "For every 100 kms we drove, we went back 100 years in time," he said.
His grandfather had died at home in a village in southern Morocco, a humble whitewashed abode with a door painted blue. The house had probably looked this way for centuries. As his descendants had all left the country, none was entitled to inherit the property – not that it was worth very much. It did cross Yariv's mind that he should claim rent due to him by the current residents. The government had, however, seized the grandfather's property and assets.
From time to time, the Moroccan king appeals to his former Jewish subjects to come back. Perhaps a million Jews of Moroccan descent automatically qualify for a Moroccan passport.
Yariv never gave more than a passing thought to the matter. Neither did thousands of other Moroccan Jews. Very few will have bothered to register their losses, let alone fight for what rightfully belongs to them. It's just not worth it. They've moved on.
The Moroccan aliya to Israel – Moroccan Jews are the second largest community in Israel – was not without its difficulties. They had problems adjusting and still comprise a substantial proportion of the poor and criminal classes. But a survey in Ynet News some three years ago found that Moroccan Jews were amongst the happiest of Israelis.
Yariv included.