Jewish refugees deserve compensation, Arabs don't
I'm just now catching up with those blogposts reacting to the Palestinian Nakba on 15 May by drawing attention to the Jewish one.
The excellent Ray Cook has a thoughtful post explaining why Jewish refugees deserve compensation, while Palestinian refugees don't :
(But ) here is the point of the title of this article. There was a Jewish 'nakba' which no-one ever hears about very often if at all.
Estimates of Palestinian refugees vary from 450,000 to 750,000.
800-900,000 Jews were expelled from several Arab states and stripped of their property and assets in 1948, and immediately in the aftermath of the creation of Israel, for no other reason than they were Jews.
Many of these fled to Israel where they were absorbed.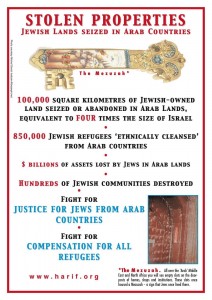 Today, the inestimable Michelle Huberman of Hariforganised an event in London "The Jewish Nakba, Remembering Jewish refugees from Arab Countries". This organisation is dedicated to having the issue of Jewish refugees and their narrative recognised and acknowledged.
Communities right across the Arab world from Algeria to Iraq were wiped out; some of these communities could trace their roots back more than 2000 years.
I recommend that you read Sir Martin Gilbert's fine history: "In Ishmaels' House" which deals with the Jewish nakba in its final chapters.
This is why I believe those who suffered the enormity of these events deserve compensation; they attacked no-one, they may or may not have been Zionists, they were generally content to continue their tight-rope existence in Arab lands where many were successful, wealthy, educated, property owning and asset rich.
How did they deserve to be deprived of citizenship, stripped of their assets and their property? What crime did they commit? The crime of being a Jew. That eternal crime which has been punished for centuries.
And they want to punish us still.
That punishment is their version of justice. The perceived grievance of the original 750,000 bloated to 4.5 million or more. Yet the 800,000 or so Jews and their descendants are only now being recognised as the other half to this cruel equation. Indeed, the Israeli government has quite rightly stated that no final peace can be made with the Palestinians without compensation for the Arab Jews.
The compensation and the recognition of this injustice against Mizrachi and Arab Jews is long overdue; and it is a much stronger claim than the Palestinians, many of whom had only moved relatively recently from surrounding countries and fled, or were victims of Israeli action as a result of their own people's aggression.
Yet, in this Looking Glass world we now live in, the Jews and their grievances are valued at nought whilst the Palestinians must be rewarded and compensating for 60 years of self-victimhood and an aggressive war of extermination.