Iraqi archives: Jewish Republicans are on the case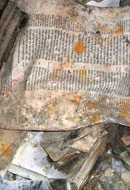 The saga of the Iraqi Jewish archives rumbles on.
The Iraqi government claims that the archives, rescued by the Americans from a flooded basement at the time of the invasion of Iraqi in 2003 and sent to Washington to be restored, are part of their national heritage and should be returned to Iraq.
Iraqi Jews, 90 percent of whom now live in Israel, point out that the documents were stolen by the Iraqi secret police from private homes and synagogues, and rightfully belong to the Jewish community outside Iraq. Only seven Jews still live there.
According to information received by Point of No Return, the powerful Republican Jewish Coalition in Washington DC have taken up the issue of the archives after Lord Janner, a prominent leader of the British Jewish community, brought it to their attention.
The US State Department have responded negatively so far. The UK Foreign and Commonwealth Office have been making inquiries, both with the government of the United States and also the government of Iraq.
The Iraqi press reported in December 2010 that Iraq's newly appointed Minister of Tourism and Antiquities has said that among his top priorities is ensuring the return of Iraq's Jewish Archives.
Minister Liwaa Sumaisem said that the return of the Jewish archives, which were transferred to the United States for repair, belong to the Iraqi state and should be returned.
"This is part of Iraq's national heritage," he told the Iraqi- based Sabah newspaper.He said that the US took the archives in 2003, prior to the US-led invasion, with the pretext it would be restored and returned to Iraq by August 2006.
"Despite assurances to return the archives within a certain time frame, the American side has not kept to its schedule and is now four years past the deadline," said Sumaisem.