Iran hardliners threaten to destroy Esther's tomb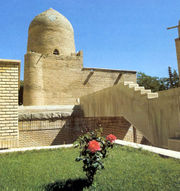 Esther's tomb in Hamadan, Iran
Update (17 December 2010): Los Angeles-based organisations of Iranian Jews have condemned the threats by the 'Iranian Taliban'. They will hold the entire leadership of Iran personally responsible for any damage, and call on local security forces to protect the site.
They also appeal to the United Nations, UNESCO and any and all cultural and historical societies and organizations worldwide who are responsible or dedicated to saving and preserving historical and heritage sites to remind the Iranian Regime about the importance of preserving the memorial site and its integrity.
Sadly, history tells us it only takes the rumour of an imagined threat against Muslim holy sites for extremists to feel entitled to attack Jewish sites (or Jewish people). AFP reports:
TEHRAN — A group of Islamists demonstrated on Sunday at the tomb of biblical Jewish queen Esther in western Iran and threatened to destroy it if Israel damages Al-Aqsa mosque in Jerusalem, Mehr news agency reported.
The agency identified the demonstrators at one of the most revered sites for Iranian Jews as members of the student basij, or hardline Islamist militia, at Bu-Ali-Sina university of Hamedan.
"Muslims beware that they have started the destruction of Al-Aqsa mosque while their second sacred site in Iran, the Esther and Mordecai tomb is at peace and no Muslims make a sound," the protesters said in a statement.
"We, the student basijis… warn Zionist regime leaders if they assault the Al-Aqsa mosque in any way we will destroy the tomb of these lowly murderers," they said.
The shrine in Hamedan commemorates Esther, a young Jewish woman who married Achaemenid King Xerxes five centuries before Christ, and convinced him to allow Jews to settle freely in the Persian empire.
Iran has the largest Jewish community in the Middle East — 20,000 to 25,000 by different estimates — after Israel, and the shrine is visited by many pilgrims every year.
Iran also houses in the western town of Shush the tomb of Jewish prophet Daniel, who according to biblical tradition, survived the lions' den.