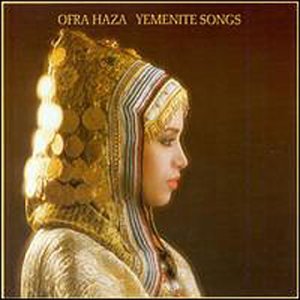 Here's a lovely sound to play you into the New Year – the gorgeous voice of Ofra Haza. The BBC has broadcast this refreshingly unpoliticised radio programme, to mark the 10th anniversary of her tragically premature death.
From the programme blurb:
"Ofra Haza, dubbed 'The Israeli Madonna', rose from her poor roots in the Yemenite community to global recognition.
"The music writer and critic Pete Paphides first heard the voice of Ofra Haza on the Eurovision Song Contest in 1983. It was an extraordinary voice and belonged to a woman with extraordinary talent and presence. Her life and career were tragically cut short when she died of an AIDS-related disease. Here, Pete talks to her life-long manager and father figure Bezalel Aloni and musicians who worked with her – Ben Mandelson, Yair Nitzani, Ishar Ashdoth, Roger Armstrong, and producer Wally Brill.
"It's ten years since the death of Israel's most well-loved pop star Ofra Haza (Feb 2000). Until succumbing to AIDS-related complications, Haza enjoyed an iconic status in her own country. Though described as 'the Israeli Madonna', her importance exceeded even those comparisons. Having grown up the youngest of nine children in the deprived Hatikva Quarter of Tel Aviv, she became a teen pop sensation in her own country. Haza's international break came in 1983 when she represented Israel in the Eurovision Song Contest with Hi (sic)– a song whose chorus, 'Israel is alive' took it within a whisker of overall victory.
"Her breakthrough album, recorded in 1985, was Yemenite Songs – a piercingly beautiful collection of traditional songs from her own upbringing, gently updated, whilst at the same time retaining key aspects of the old instrumentation (tea trays, petrol cans). As well as cementing her status in her own country, Yemenite Songs was a word-of-mouth sensation across Europe. The a cappella intro of Im Nin Aluwas sampled by Coldcut, which in turn prompted the song to become a British hit."
You can listen to the programme on BBC i-player for the next few days.
Enjoy – and a Happy New Year 2011 to all Point of No Return readers.