Why can't MidEast Christians be allies of the Jews?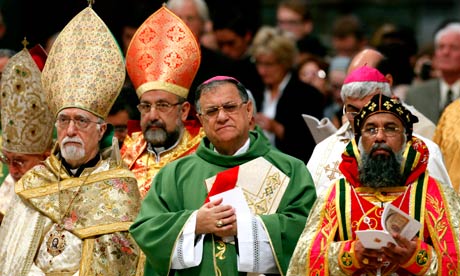 At the Mass following the October Vatican synod (Photo: A Pierodomenico, Reuters)
The death of 52 people two days ago when terrorists stormed a Catholic church in Baghdadwas another tragic reminder of why the leadership of Middle Eastern Christians needs to stand up against Muslim fundamentalism – together with their natural allies, the Jews.
Jews reacted with shock and disappointment when patriarchs summoned by the Pope to the Vatican on 15 October to discuss the exodus of Christians from the Middle East called instead on Israel to end its "occupation" of Arab lands.
The synod's message said that "re­course to theological and biblical positions which use the word of God to wrongly justify injustices is not acceptable," implying that Israel uses the Bible to justify its treatment of Palestinians.
Most egregious of all was Greek Catholic Melkite Archbishop Cyril Bustros. Bustros, who is in the running to become Archbishop of Beirut, contradicted the teachings of the Catholic Church's Second Vatican Council and echoed Islamic supremacist propaganda by saying that divine promises made to Israel according to Jewish and Christian Scripture "were nullified by Christ".
Robert Spencer points out that Archbishop Bustros was contradicting an early statement of his own, made in 2009: "the doctrines of Islam dictate war against unbelievers."
Bustros was in good company: Emmanuel III Delly, the Patriarch of Babylon of the Chaldeans, head of the Chaldean Catholic Church, who in 2007 said this: "Christians are killed, chased out of their homes before the very eyes of those who are supposed to be responsible for their safety." In 2008, he said: "The situation in some parts of Iraq, is disastrous and tragic. Life is a Calvary: there is no peace or security… Everyone is afraid of kidnapping."
But at the Vatican's synod, Delly said this: "The population of this country, crossed by two famous rivers, the Tigris and the Euphrates, is 24 million, all Muslims, with whom we live peacefully and freely….Christians are good with their fellow Muslims and in Iraq there is mutual respect among them."
Both patriarchs know full well that Christians are on the run from the Middle East. Forty percent of refugees from Iraq have been Christian. The Lebanese pay mere lip-service to Maronite power in a state where the Christians are a dwindling minority. In Egypt the Copts are marginalised, singled out for periodic oppression, abduction and and murder. The only place where the Christian population has grown is Israel: there were 34,000 Christians in Israel in 1949 and there are now 154,000.
The bishops at the Vatican synod squandered another opportunity unequivocally to condemn Islamist persecution and oppression, and the failure of Arab governments to protect them, preferring to exercise their knee-jerk impulse to blame the Zionist bogeyman for all the troubles of the Middle East.
At a time when all non-Muslim minorities are being driven from the region, Christians should stand united with Jews against Islamist oppression. They should realise that they are the natural allies of the Jews, who have already been as good as 'ethnically cleansed' from the Arab world.
So why do Christian leaders behave as they do?
Spencer gives three main reasons: one is that eastern Christians are desperate to show off their credentials as Arabs. Christians were among the pioneers of Arab nationalism because they saw it as their exit strategy from their inferior status as dhimmis. And the touchpaper of Arab nationalism is anti-Zionism.
The second reason is that Bustros is anxious to reassure Muslims of his suitability to become the next Archbishop of Beirut.
The third is simply reflexive dhimmitude – Middle Eastern Christians will not kick the habit overnight of centuries of kow-towing to their Muslim masters. Historically, it was a survival mechanism: often they redirected Muslim hostility towards their fellow dhimmi Jews – hence the frequent anti-Jewish bloodlibels in Muslim lands, an import of Christian antisemitism.
One could add a further reason: theological antisemitism. The Eastern Catholics, unlike their Western Catholic counterparts, did not agree to the declaration of the Second Vatican Council absolving the Jews of the original sin of 'killing Christ'.
However, the pusillanimous Christian leadership may be out of sync with the rank-and-file. Last week, the press carried inspiring reports of one young Copt, who risks being ostracised and imprisoned as a conscientious objector to military service in the Egyptian army because he did not want to turn his weapon against Israelis.
Maikel Nabil Sanad told Ynet News:'I am pro-Israel.'
"From a young age I read a lot about the Israeli-Arab conflict. I understood the Arab media hid facts that support Israel. I tried to contact Israeli activists and started asking them questions, such as, 'Is it true that Israel is a militaristic state?' or, 'Is it true that Israel wants to expand and reach the Nile? That's how I learned. I understood a lot about the state, society and its laws. Many Arabs living in Israel told me how they are really treated and how much they prefer living in Israel above any Arab state. I also read about Israeli pacifist organizations."
"The Israeli nation must know there are many Egyptians who support it, that we love Israel (my emphasis) and support its right to exist. The picture painted by the media that all Egyptians hate Israel is false. This picture is not correct, and I want to make that clear to you."

And so one young Christian is prepared to take great risks to buck the trend. Would the Christian leadership had one tenth of his courage.

Christians and Jews in the Muslim line of fire
The closing of the Christian womb (or why Arab Christians have already had their time in the sun)