What's in a name? Not what you think, Mr Masalha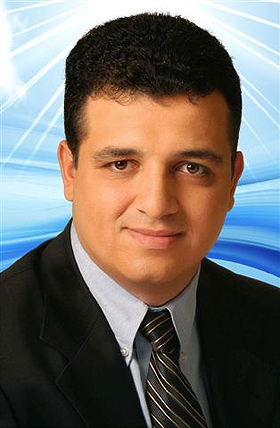 MK Carmel Shama Hacohen
With thanks: Lily
An MK called Carmel Shama has added the suffix 'Hacohen' to his name. This set Salman Masalha off on another 'Israel-is-apartheid' diatribe in Haaretz,arguing that the MK was typical of Mizrahi Jews under pressure from 'European Zionism' to add a Jewish name lest anyone mistake them for an Arab or Druze:
Here, then, is a blatant example of how "Ashkenazi Zionism," from Europe, has corrupted the souls of those referred to as "members of the Mizrahi group," from the Middle East and North Africa.
Masalha claims that by distinguishing between Arab and Jews, the 'Ashkenazi establishment' is better equipped to enforce their 'racist' policies:
It bears noting that the original reason Israelis were required to list their national ethno-religious identities on official documents was to help Ashkenazi institutions distinguish between Jews and Arabs, since many Jews who came from Arab countries had Arab names. At first there were only two categories listed: Jews and Arabs. At a later stage, "Druze" was added as a separate category.
However, Mr Masalha, Jews have always changed their names the better to blend in with the dominant culture. In the West Jewish immigrants have often changed their names to hide their Jewishness. Woody Allen changed his name from Allen Koningsberg and Kirk Douglas from
Issur Danielovitch (and with a name like that, who can blame him?) It's well known that Jews were given absurdly non-Jewish names by US immigration officials at Ellis Island. I know Jews with surnames like Bishop and Bacon. Likewise there are non-Jews called Cohen.
Lots of Jews did change their names on arrival in Israel. Not just Mizrahi Jews, plenty of Ashkenazi Jews did so. David Green became David Ben-Gurion. Goldstein became Even-Zahav. They wanted to create a new Israeli persona for themselves.
Not all Jews from Arab countries have Arab names but some do. It's often a question of fashion. Each era spawns its own names: I know a Jewish Hamid, a Jewish Ihsan, a Jewish Nasser and even a Salman. In the era of the French and British mandates and protectorates, the previous generation of Jews had European names – Albert, or Victor, or Violette, or Bertha. Some of the generation before that had Ottoman names: Selim, Abdullah, Khatoun, Nevine. But Arab names don't make Jews into Arabs, any more than French names make them into Frenchmen or Ottoman names into Turks.
Let it be clear from the outset that these Jews are not Jewish Arabs as Masalha would have us believe. In what sense have they been corrupted by Ashkenazi Jewry? They have always identified as Jews, not Arabs. The semantic discussion over 'Jewish Arabs' or' 'Arab Jews' is one which Point of No Return has covered extensively. And regardless of the Zionist movement's European origins, there are plenty of Mizrahim proud to call themselves Zionists.
Perhaps – just perhaps – Masalha has misunderstood the whole issue.
Shama is not necessarily an Arab name, although it might be a popular Druze name. I know Jewish Shamas – and there is even a famous Jewish historian called Simon Schama.
Perhaps it was Carmel Shama's first name which was giving him the trouble. After all, there is a Druze village near Haifa called Dalyat Ha-Carmel. I've no idea if Carmel is a popular Druze name – perhaps it is.
However Carmel is also a Jewish name – there are enough Jewish Carmels of either sex to dispel any doubt that it is uniquely Druze.
There could be a final explanation why Carmel Shama decided to affix 'Hacohen' to his name – one that Masalha could have missed altogether. Hacohen means The Priest. For someone who is proud to belong to the noble priestly caste of Israel, it would seem natural for Carmel Shama to want to show off the fact.
If you've got it, flaunt it.