Lebanese feel sympathy for Beirut Jewish exiles
A Lebanese audience, packing the hall to overflowing (and reportedly including a few Jews), recently saw a screening of Nada Abdelsamad's BBC documentaryabout the old Jewish quarter of Beirut. The programme has had the curious effect of humanising Jews to a Lebanese audience. One Shi'a woman even confessed to feeling compassion for them! Magda Abu Fadil reports in the Huffington Post:
First came the book, then the documentary, on Lebanon's Jews who pine for their birthplace, singers Fairouz, Sabah and Wadih El Safi, and recall their life before heading to Israel and beyond.
"Most of Lebanon's Jews left quietly in stages to Israel and other countries; some returning as occupying troops during Israel's onslaught in 1982," Nada Abdelsamad narrates the opening scene of her BBC documentary "Lebanon's Jews: Loyalty to Whom?" on a community that remembers its days there with fondness.
Some, like Elie Bassal, even kept their identity cards and officer uniforms in Lebanon's security forces where they served with distinction.
Bassal's son Jacques, who still has his own Lebanese ID card and driver's license, shows off his father's 65-year-old braided costume to a reporter with pride. Bassal had refused to move to Israel, instead choosing Canada as his destination.
For former neighbors and friends, there's quizzical nostalgia about whether the Jews they knew in their youth were alive, and questions about what had become of their families — all set against the reality of the festering Arab-Israeli conflict and how it had torn them apart.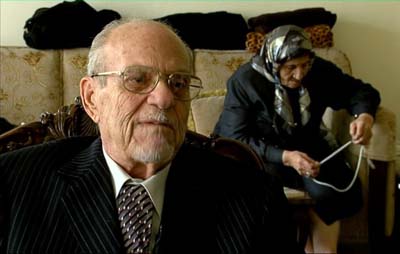 Moukhtar Itani, 95, remembers Elie Bassal (Abou Jebrayel)
Nanogenarian Moukhtar Itani said Beirut's abbatoir was overseen by a rabbi called Salamon, and doctor Nassim Chams, dubbed "healer of the poor," tended the sick.
Itani's wife remembers how the Jewish neighbors she played with as a child suddenly disappeared and their house locked up, after the creation of the state of Israel in 1948.
"We sat at their doorstep and cried," she said.
Another older Beirut woman shows the picture of her former playmate whose family decided to go to Israel.
The Jewish girl had asked her friend not tell anyone of the family's destination, and like other families in the quarter, were missed by their neighbors.
The juxtaposed scenes from Lebanon and Israel enveloped in romantic Arabic music in the 47-minute film, are based on Abdelsamad's book on Wadi Abu Jamil http://www.huffingtonpost.com/magda-abufadil/wadi-abou-jamil-stories-a_b_452242.html, Beirut's pre-Civil War Jewish quarter.
The camera pans across remnants of civil war era pock-marked buildings in that neighborhood of the Lebanese capital where Jewish businesses and schools once stood, and where gentrification and stratospheric real estate prices have become the norm.
"I'm not Lebanese but I was born in Beirut, and raised in Beirut, and grew up in Beirut. Beirut made me," said a Jewish man choking on his words. "I'm very emotional about it."
He recalled how he left Lebanon on a one-way ticket with a "laissez passé," travel papers.
He and countless other Jews were from families that settled in Lebanon from Iran, Iraq and Syria after 1948, but who, increasingly, felt uncomfortable amidst growing Arab resentment at Israel's displacement of Palestinians to create a Jewish state.
During her research, Abdelsamad, a veteran BBC correspondent in charge of the Beirut bureau's Arabic service, met Zach, a Jew who had left Lebanon following Israel's Six-Day War in 1967 against Egypt, Syria and Jordan, and had returned later in peacetime on a European passport.
But Beirut-born Marco Mizrahi, — whose father Salim was Jewish and mother Marie was Christian, and had left as a teenager — returned as a soldier with the IDF when Israel invaded Lebanon in 1982, partly searching for his old stomping grounds.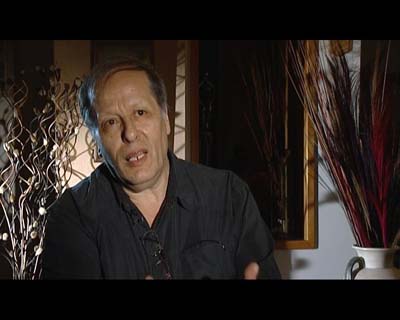 Marco Mizrahi (Abou Jebrayel)
"They called up the reserves from day one," Mizrahi remembers in his Tel Aviv apartment.
He told his commanding officer he had no qualms about killing a Lebanese soldier, if it were a matter of life or death, even if he knew the enemy from his youth.
But as a fresh conscript in the early 1970s, Mizrahi admitted he hesitated to join Israel's intelligence service Mossad that tried to recruit him for spying missions in Lebanon because of his knowledge of the language and country.