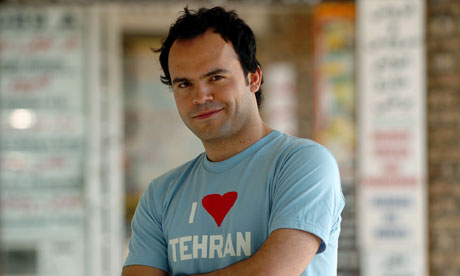 Hossein Derakhshan, sentenced to 19 years (photo: AP)
It's a sad day for all those who are trying to build bridges between Israel and the Muslim world. Canadian-Iranian blogger Hossein Derakhshan (nickname Hoder), whose account of his trip to Israel in 2006 was featured on Point of No Return, has been sentenced to a draconian nineteen-and-a-half years – for 'collaborating with foreign governments'. His blog ruminations have not always been critical of the regime – in fact some accuse Hoder of being an Ahmadinejad apologist. Nevertheless, Derakhshan will sacrifice the best years of his life for doing what is not a crime at all in most countries.
The Financial Times reports:
Iran's most prominent blogger has been sentenced to more than 19 years in prison for allegedly collaborating with foreign governments.
Hossein Derakhshan, known as the father of Iran's bloggers, was arrested two years ago when he returned to Iran after spending eight years living abroad.
The main reason for his arrest is believed to have been his visit to Israel in 2006, a country which Iranian citizens are banned from visiting.
Mr Derakhshan, who holds dual nationality, said he travelled there on his Canadian passport. But admitted on a blog post before his arrest that the aim of the visit was to try to connect the Iranian and Israeli peoples.
A website close to the government said on Tuesday that the Revolutionary Court, which deals with security charges, found Mr Derakhshan guilty of collaborating with "hostile governments", spreading propaganda against the Islamic regime and launching obscene websites. The verdict is subject to appeal.
The US-based International Campaign for Human Rights in Iran described Mr Derakhshan as "a prisoner of conscience", along with over 500 others who have been jailed for their opinions and writings.